Water Department
Phone: 304-845-0380
Fax: 304-845-3583
---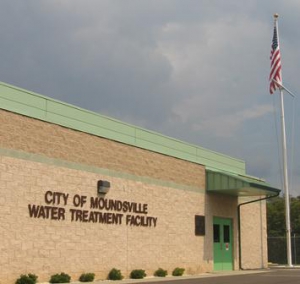 The Moundsville water system was constructed over 100 years ago to serve a growing community. Recently, the consequences of deep mining have adversely affected water quality. High levels of manganese and hardness have plagued the system.
In 1998, the City Water Board selected Gwin, Dobson & Foreman, Inc. to design a new water treatment facility. After extensive pilot testing and process research, the resulting plant design uses the latest water treatment technologies.
The plant utilizes advanced treatment technology for control of iron, manganese, disinfection byproducts, taste, odor, color, hardness, bacteria, and pathogens. Unit operations include ozonation (for pretreatment oxidation, pathogen deactivation); coagulation and flocculation (for chemical conditioning); multi-media/automatic backwash filtration system (for particle separation) and high-pressure nano-filtration (for hardness removal and sub-micron particle separation). A sophisticated instrumentation and control system will operate and monitor the treatment process.
After years of permitting and approvals, construction of the new plant started in 2006. Shook Construction of Dayton, Ohio, is the general contractor. The project is funded through $3.5 million in grants and $14.5 million in low-interest loans.
The new plant has been completed, is online and operating.
---
Dept. Facts
Customers 4500
Connected Pop. 15,000
Average Consumption 1.5MGD
Water Supply Deep Wells
Plant Capacity 3MGD
Regular board meetings are held on the 2nd and 4th Mondays of the month at 5:00 p.m., located in the City Council Chambers. Approved minutes can be obtained from the office of the Superintendent by request.
---
Reference & Resources
Water Emergency Alerts and Public Service Announcements
---